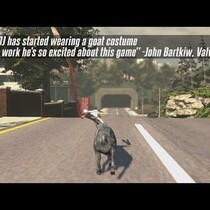 Posted March 27th, 2014 @ 8:15am
Goat Simulator is a game that came out of some sarcastic ass answering the question, "What kind of game should we make," with "How about a game where you play as a goat." A game developer decided to make the game as a goof, but now it looks like it will be a real game you can buy on Steam.
Does it look buggy? Damn right it does. That's because developers have done nothing to remove them because the bugs only make it funnier. Check out the teaser video that was released a few months ago:
Just to prove it's a real thing, here's the actual teaser for the game's release.