JJ Abrams has his Star Wars Ep.7 cast
StarWars.com just revealed the cast of Episode VII and thankfully most of them are unrecognizable.
Here's the list:
Actors John Boyega, Daisy Ridley, Adam Driver, Oscar Isaac, Andy Serkis, Domhnall Gleeson, and Max von Sydow will join the original stars of the saga, Harrison Ford, Carrie Fisher, Mark Hamill, Anthony Daniels, Peter Mayhew, and Kenny Baker in the new film.
The name on that list that stands out for me is Max von Sydow. You may remember him as Ming the Merciless in Flash Gordon: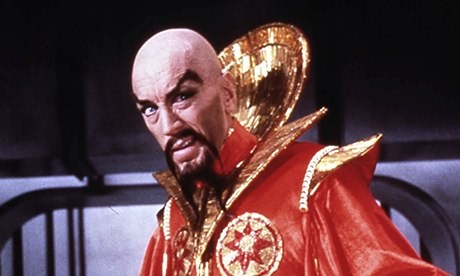 Could he be a Sith? Could this be the Star Wars/Flash Gordon crossover people have been begging for? Darth Ming the Merciless?
HELL NO. That's a terrible idea. But von Sydow will undoubtedly play a bad guy. He almost always does.
The only other immediately recognizable name is Andy Serkis. You might know him better as Gollum.
Serkis was the actor they used for Gollum's voice and to capture his movements. Chances are they will have Serkis playing another computer generated character since he's a master at it, also turning in amazing performances as Caesar in Rise of the Planet of the Apes and King Kong in Peter Jackson's version.
Go here for the rest of the cast pictures.
http://thefilmstage.com/news/the-cast-for-j-j-abrams-star-wars-episode-vii-officially-unveiled/

Moment of Zen I think my outlook on life can be best summed up by the wise words of the kickboxing philosopher, Lloyd Dobler:"I don't want to sell anything, buy anything, or process anything as a career. I don't want to sell anything bought or processed, or buy anything sold or processed, or process anything sold, bought, or processed, or repair anything sold, bought, or processed. You know, as a career, I don't want to do that." Truer words have never been spoken.