What happens when you try for a world record jump and don't quite make it?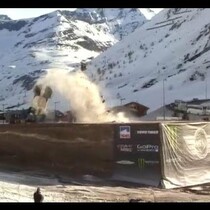 Posted March 19th, 2014 @ 10:03am
With traffic in this city, especially on the bridges, wouldn't it just be easier if they'd set up some jumps to get over the Willamette? Then it's only a simple matter of getting your car up to 130mph before you hit the ramp and then it's nothing but smooth sailing until you hit the turf at Waterfront Park. Then again, there might be the occasional situation like this...
That was Guerlain Chicherit's attempt at a world record jump. He might need to get that ding in the hood knocked out before he tries it again. In case you're wondering, he miraculously walked away from that crash with minor injuries.